Professional Photographers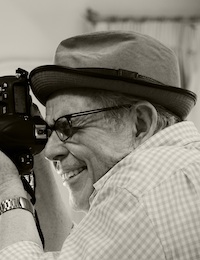 Jim
McHugh
Digital Artist and Photographer
Delkin
Jim McHugh is a widely acclaimed portrait, lifestyle and fine art photographer. He has created award-winning portraits of Samuel L. Jackson, Clint Eastwood, and Sir. Anthony Hopkins. A unique series of environmental portraits by McHugh has appeared on the covers of Architectural Digest. This series includes Candice Bergen, Tina Turner, Wynona Rider, Kelsey Grammer, and Anjelica Huston.
Jim is one of the original contributing photographers to People magazine, where he started his career during the magazine's very beginnings. Jim worked with the Grammy Awards for a decade creating "The Grammy Image Project", a series of unique celebrity images and a traveling exhibition that chronicled the history of contemporary music. Just a few of the musical legends included are Eric Clapton, Carlos Santana, Tony Bennett, Sheryl Crow, U2, Elton John, Sean "P-Diddy" Combs, Tina Turner and BB King.
McHugh has published several books on Contemporary Art and Artists, including, "California Painters: New Work" and "The Art of Light and Space". His artist's portraits of David Hockney, Richard Diebenkorn and Sam Francis among others are in the permanent collections of The Museum of Modern Art, NY.
Jim McHugh has garnered many awards for his photography and is included in prominent collections such as The Museum of Modern Art, The Walker Center, The Polaroid Collection, and the National Portrait Gallery in London. He has exhibited widely both nationally and internationally. In 2010, the United Nations honoured him with the IPC Professional Photography Leadership Award.
The City of Los Angeles Department of Cultural Affairs recently exhibited Let's Get Lost: Polaroids From The Coast, a 30-year collection of photographs by Jim McHugh highlighting the iconic architecture and personalities of Los Angeles and of Hollywood. These landscape photos present colorful depictions of memorable buildings, monuments, and theatres with bright, characteristic neon signs, evoking Hollywood's golden era. The exhibition was assembled by guest curator Joe Lewis, dean of the Claire Trevor School of the Arts at UC Irvine.
Another recent McHugh exhibition, Studio Visits, was part of the Getty Museum's Pacific Standard Time program in Los Angeles. This show features work made by Southern California artists between 1945 and 1980. McHugh's 40 portraits on display include David Hockney, Ed Ruscha and Richard Diebenkorn.
Jim McHugh is Vice Chair of the Advertising Photographers of America, Los Angeles. His special interest is the combining of traditional and digital techniques to create fine art prints.
Jim lives in Los Angeles with his wife Johnna and daughter Chloe.